Computer Network Support Miami
Building intelligent Network Designs
It is critical to build an optimized network that is fast, reliable, secure, and can intelligently route the data traffic.
Business owners work hard to achieve success. But as businesses grow, owners look for new places to do business- it could be a new location or a significant expansion of their current space. Whether it is an expanded operation or a new location, it will need an IT infrastructure to support it that includes data centers, networks, and power to run them. Even for businesses that have an established network, they need networks that are more robust and yet sophisticated enough to support an increasing number of applications and users.
Revive Your Computer makes sure that your data travels fast and securely. No matter what the size of your company is, our highly skilled network architects can help you find the best solutions for your business. 
What is Network Design?
Network Design involves understanding, evaluating, and scoping the network that will  be implemented in an organization. It allows the organizations to implement a computer network infrastructure based on business needs and processes.
The network design typically includes the logical map of the network that has to be designed, overall network security processes, location, quantity, and type of network devices that would be needed as well as the cabling structure.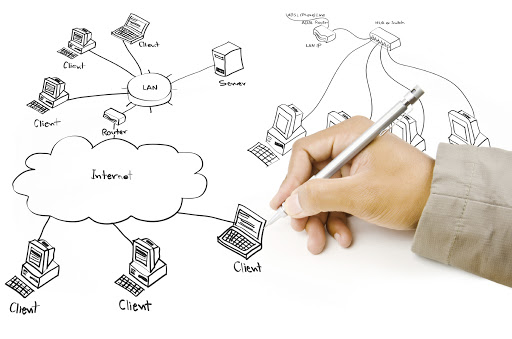 How can a robust Network Design help an organization?
Take Dave, Dave is a Chief Technology Officer of a global food company in the state of Ohio. He was constantly challenged by the degrading network performance and how slow the business applications were running. This was affecting the "speed to market" and turnaround time to their customers.
Dave engaged the team of Revive Your Computer's network specialists who studied the existing network design of his organization. Our network architects proposed Dave a network design which was optimized, resilient, and secure. This helped him have faster data transfer, segregation of the internet traffic from the data traffic, and kept his organization safe from cyber threats.
In addition, Revive Your Computer's network design also helped the organization in creating a modern network environment which helped Dave's company keep up with all the new digital initiatives like Internet Of Things, data analytics, cloud computing, and Artificial Intelligence which have a huge dependency on a strong network environment.
How does Revive Your Computer create a Network Design for your company?
The Network Design experts at Revive Your Computer do a thorough analysis of the business to understand the following:
What is your business and what makes it unique?
What are the plans for business growth and how do you plan to achieve those goals?
To what extent does your technology solution help in achieving your business objectives?
Based on this analysis, our knowledgeable technician team then designs, implements, and provides you with complete IT support according to the requirements of your particular business. We ensure that the networking approach that is right for your business is implemented not only for now but also provides a scope for easy expansion as the business grows.
Revive Your Computer can take care of all your IT consulting Miami and IT support Miami. For further information, please contact our team of experts today!
CONTACT US
We ensure customized solutions and cost-effective IT services at all times. For more information on the best IT support in Miami, contact our experts today.
Office
12384 SW 82nd Ave, Pinecrest
Monday – Friday 9 am – 6 pm