"Hybrid office" is the new buzzword you'll hear used in business discussions. It's the mix of having employees both working at the office and working from home. This has become more than a buzzword and is now the reality for many companies.
There was a survey of employees with remote-capable jobs. The survey found that as of February of 2022, 42% of them were working a hybrid schedule. And 39% were working from home full time.
The global pandemic brought on this hybrid office transition. It forced companies to operate with teams that could no longer safely come to the office. During this time, employers and employees experienced the benefits of hybrid work firsthand.
These benefits of remote teams included cost savings for both workers and employers. It also allowed the company to operate with more flexibility. Improved worker morale was another advantage.
One fact surprised many employers that feared remote work would tank productivity. It actually increased in many circumstances.
63% of high-growth companies use a "productivity anywhere" hybrid work approach.
In order for hybrid teams to be productive, they need to stay connected. No matter where they work, the right technology tools should enable them.
One of the leaders in this space has been Microsoft. The company plans to add several exciting updates this year. These will provide more tools for companies to enable their hybrid teams.
Here are some of the ways you can use Microsoft 365 to optimize a productive hybrid office. Note, that some of these features are already out, and others should release later this year.
1. Microsoft Teams & Expanded Features
Microsoft Teams is much more than a team messaging app. The application combines the best features of virtual video meetings and messaging channels. It brings them together into a platform designed to be a secure online work hub.
MS Teams has come a long way in the last five years. And the company continues to add more features to enable hybrid offices. Some of the recent feature updates include:
The ability to do webinar registration
Presenter modes that provide a more professional virtual presence
Increased security through features like smart links and smart attachments
A full business VoIP phone system add-on
The addition of a "metaverse" component called Mesh for Teams
2. New Meeting Options for RSVP in Outlook
One of the challenges, when everyone isn't working in the same place, is how to know when to "clock in" and "clock out." As well as how to let colleagues know whether you are working at home next week or the office.
To help hybrid teams better coordinate, Outlook is getting an update. It will allow users to RSVP to meetings. This can let team members know whether they are attending virtually or in person.
3. Better Framing for More Engaging Meetings
One thing that can distract from the purpose of a meeting is someone's background at home. Positioning of the camera can also be problematic. One person might have their face taking up 80% of the video screen. Another may only take up 20% because they're sitting farther away from their PC's camera.
A new Surface Hub 2S Smart Camera will allow for better face framing. This will affect when people are meeting virtually in Microsoft Teams. Features include adjusting the room view so people's faces will be clearer. As well as having more consistent sizing.
The video display will also automatically adjust as people join or leave a physical room.
4. Get Better Control of Your Video Using PowerPoint to Present
People often share a screen in a video call and present a PowerPoint presentation. It can be difficult to keep everyone as engaged as when you're presenting in person.
For example, in person, you can maintain eye contact. People can clearly see your facial expressions as you emphasize various things. That's not always the case when presenting virtually. The app may push your video feed into a tiny box.
There's a new upcoming feature for Teams called Cameo. It will allow you to seamlessly integrate PowerPoint with MS teams. You can decide exactly how you want your video feed to appear in relation to your presentation.
Another addition is Recording Studio. This new feature for PowerPoint allows you to record professional-looking on-demand videos. You can do it right inside the app.

5. Get Help With Your Presentation Skills
Microsoft has poured a lot of AI capabilities into Microsoft 365 over the last several years. One that will soon help you deliver better virtual presentations is Speaker Coach.
This is a private and personalized coach. It can help you hone your presentation skills. This improves your switch to the differences between presenting online versus in person.
Some of the feedback it can provide include:
Use of repetitive language
Use of filler words (Ummm)
Speaking pace
Pausing for input
Intonation
Speaker overlaps
And more
Ask Us About Improving Your Hybrid Office Capabilities with Microsoft 365
Microsoft 365 has a ton of helpful features. But it does help to have an expert guide to help you navigate these capabilities. Contact us today to set up a chat about how Microsoft 365 can help your business grow.
This Article has been Republished with Permission from The Technology Press.
One of the most important applications we choose is our internet browser. When on a computer or a mobile device, we work in that most of the time because many applications are now cloud-based, so accessing them means going through your browser.
Over the years browsers have come and gone. A little over a decade ago, Internet Explorer was the head of the pack, and now that browser is retired, Google's Chrome has been in the top spot for several years.
But just because a browser is number one today, doesn't mean it's going to stay that way. One browser that has steadily been making its way up in popularity since its release in 2015 is Microsoft Edge.
Edge is the replacement for Internet Explorer, but it's taken a while for it to become mainstream. It seems that now is its time.
Microsoft Edge recently surpassed Firefox in worldwide desktop browser market share and is now the #3 Desktop browser in the world behind Chrome and Safari. And it's less than one percentage point behind Safari, so it is poised to jump into second place soon.
Current desktop browser market share:
Chrome 64.8%
Safari 9.77%
Edge 9.6%
Firefox 9.46%
Opera 2.88%
Internet Explorer 1.14%
Why has Edge become so popular in the last few years when it seemed to be slow out of the gate? One big reason is that it adopted the Chromium framework in 2020. This is the same background framework that Chrome uses.
This sped up the browser considerably, plus multiplied the number of extensions and add-ons that could be used with it.
Should you switch to Edge? You'll have to decide that for yourself, but here are several great features that might make you want to give it a try.
Collections for Storing Sets of Pages
All browsers have some form of "favorites" or bookmarks to save webpage links. And these lists quickly become long and unorganized, making it hard to find what you're looking for after a while.
Edge has a very nice feature called Collections. This allows you to save web pages in a sidebar and group them by topic. For example, you could create a topic called Vacation Planning and then save all the web pages from your trip research inside.
If there is an image on the page, that will show up to help you recognize the site. And collections are easy to access by using the "+" icon at the top of the browser.
Collections are also easy to delete once you've finished with them, so you won't end up with endless webpage links, as tends to happen with bookmarks.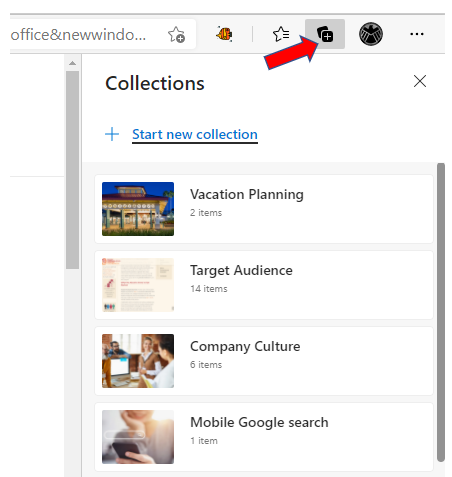 Coupons
You don't have to add a coupon app to your browser to get site coupons anymore. Edge will do this for you automatically.
If it detects that there are coupons for a site you're shopping on, you'll get a popup and can click to automatically try any coupons available for that site.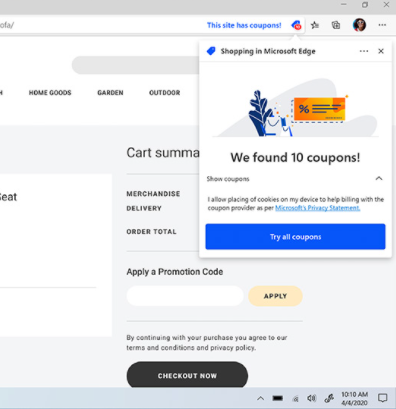 This saves you from having to take the time to search for coupons on your own and ensures you don't miss any potential savings out there.
Price Comparison
Another way that Edge helps you get the best deal when shopping online is through its pricing history and price comparison information. If you're shopping on a website and the product that you're viewing is cheaper on another site, Edge will let you know.
It's also going to provide you with a price history so you can see if this product is at its highest or lowest price related to the site you're viewing.
This is very handy for saving money and ensuring you're not missing out on savings by ordering the same item from a different retailer.
Security Features
There are several built-in security features to help you avoid phishing sites with malware as well as intrusive 3rd party advertising trackers.
There is a password monitoring feature that will let you know if any passwords you have stored have been involved in a breach.
You'll also get Microsoft Defender SmartScreen protection for keeping you away from sites known to have malware or to have been used in phishing scams.
Google is sometimes criticized for lack of privacy, and Microsoft is trying to go in another direction on this. In Edge, you can choose from three tracking prevention settings to prevent as much of your personal information from being captured by advertisers as possible.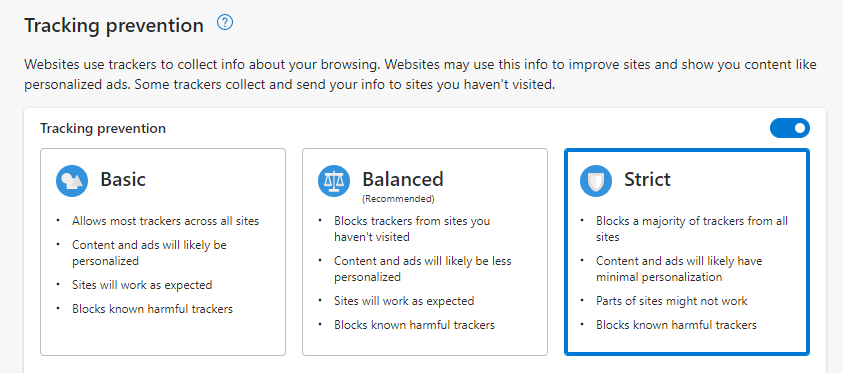 Web Capture for Quick Screenshots
It's easy to do screenshots and mark them up in Edge. In the browser menu, you just choose Web Capture, which will allow you to drag a rectangle across any region you like or to take a full shot of the screen, then bring that into a window if you'd like to add additional notes.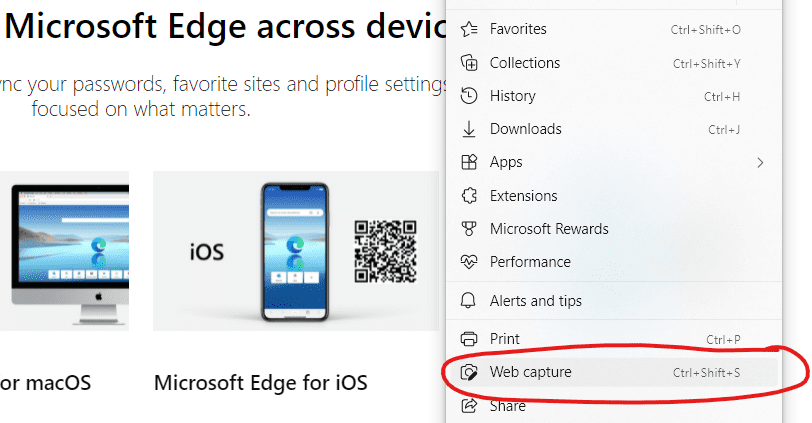 Is Your Internet Security Where You Need It To Be?
Online security is important both at home and at work. Need some help ensuring you have the right safeguards in place? Give us a call!
This Article has been Republished with Permission from The Technology Press.